I really want to know more about every single UTAUloid here on UTAU-DREAMS.
So why dont you write some aout your UTAUloid here, and maybe send an image with if you have.
Or if you dont have any UTAUloid yet, tell me how you want her/his/its voice to be like >w<


Last edited by Yumi Watase on Mon Apr 18, 2011 2:12 pm; edited 1 time in total



Posts

: 22


Join date

: 2010-10-17


Age

: 21


Location

: NOOOOOOOOWAAAAAAAAAAY



<--Some what X3
Name-Hiroko Ayagi (or Hiro for short :3 )
Special item-Bubble wand (LOVE BUBBLES XD )
Hair Color-Lol i TRIED to dye my hair blue+purple an it washed off as pink in rl XD
Color-Aqua i love the water & sky so i decided to do that
Song-Ive only done Honey but i need to remake his whole bank again :/
Why Did U Make Your Utau-I love to sing even if i know iam bad so i did it to sing my fav vocaloids song an join in 2 :3
Word To Utau-Dreams-Lets all get long an make AWESOME music (p.s DO THIS TOPIC AN SHARE! )

(i made up the questions while i was talking to myself an playing on my psp XD )



Posts

: 16


Join date

: 2010-12-08


Age

: 26


Location

: Were Iam RIght Now :3



O3O
love the design !!
Thanks for posting about your UTAU >w<




Posts

: 22


Join date

: 2010-10-17


Age

: 21


Location

: NOOOOOOOOWAAAAAAAAAAY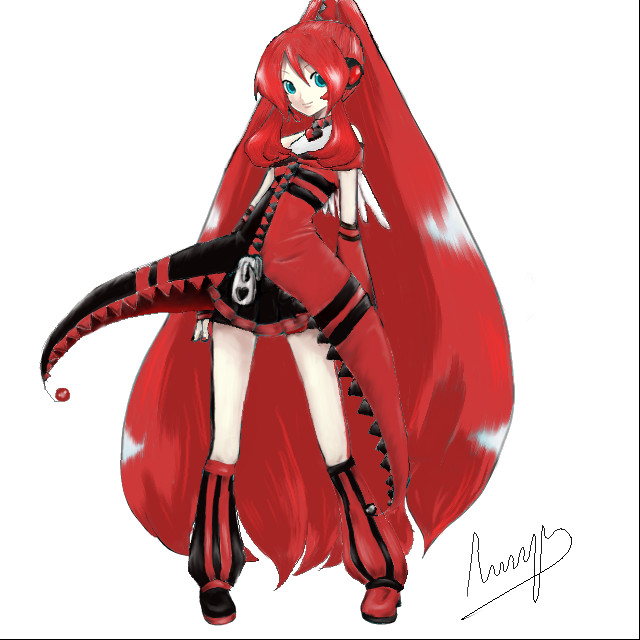 i know it's a recolor ;A; don't troll me
Name: Databasu Miyumi
Age: 16
Gender: Female
Item:2 Cherries/a black and red broken heart
_____________________________
She's got angel wings and a dream: became a virtual diva. Her little sister, Databasu Yuzuki, is always telling her that nobody loves her.
She's the 01 of MiyuSama639's UTAU (there's a 00 too, called Chris Aurel or Cristina Aureliano; he's a dust-bin).She has got one problem(or 3):she's got 3 personalities:
-Miyumi(neutral/black and red)
-Miyu(innocent/red and pitched voice)
-Yumi(bad/black and lowed voice)
Miyu is in love with VOCALOI* KAIT* (I don't know if I can write those names XD), and that's why she's sometimes depressed. BUT SHE'S NOT LIKE TEI D:
You can get Chris Aurel writing g+20 in Rendering Options.



Posts

: 69


Join date

: 2010-10-18


Age

: 23


Location

: Green Hill Zone Act 2, Spain



Oh Godz so nervous I hope the thread is'nt dead yet
Name: Saundo Shinde
(Saundo = Sound)
(Shinde - Dead)
Nickname: Bani
[FUN FACT: I ragequitted my previous UTAU, Aito Yume (Love and Dreams) (Aito = Love and) (Yume = Dreams) because my voice sounds weird, so I renamed her and changed her gender.]
Age: 12
Gender: Unknown (Might change it later, was originally, female, now male, now I need to make a decision)
Item: Various toy animals (The one he carries changes all the time, and they're, oddly, ALL named Ollen) and a Black-And-Gold sledgehammer

---

(Oh lol, this is gonna sound retarded) She's (Gonna refer to Shinde as a she) a bunny who mysteriously turned into a human-like form. She likes Oliver and Len, because they saved her from "mean people who beat her up" when she was still in bunny form. She's normally a happy-go-lucky person who's very friendly, but will turn yandere on anyone who gets to close to Oliver and Len. Despite her friendly nature, she is shy towards most humans, so she takes them out from behind she avoids them. She likes all kinds of animals and can talk to them. She idolizes the Vocaloids, especially ? and ? (You should know by now).
Oh God the bunny thing sounds like I took it from a shoujo manga but I just thought of it while listening to Rin and Len. Also, have a look at my username.



Posts

: 1


Join date

: 2012-12-30


Location

: Wonderland :3



---
Permissions in this forum:
You
cannot
reply to topics in this forum